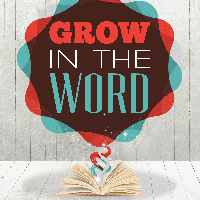 Grow in the Word
by Pastor Jack Walker | April 29, 2014
Psalm 40:7
Then said I, Lo, I come: in the volume of the book it is written of me
The Challenge
Our theme this year at Mts. Runn is Grow in the Word. I challenge each of us to study God's Word daily. The Bible is the source of everything we need for life and eternity. All of our strength, hope, and purpose were recorded by God himself in order for us to find Him.
The Problem
Many times we have problems reading the Bible because we don't know how to study. The Bible was written so that we might have eternal life. Eternal life always leads to life of continual transformation.
For most Christians, salvation is the easy part. We understand that we are sinners. We recognize without Christ we are destined to an eternity of death and hell being separated from God. Salvation begins the moment we realize that we are not capable of having a relationship with God based upon our own goodness and we turn to Jesus Christ and His righteousness. This is what we refer to as the Gospel (Good News). It is Jesus Christ doing what I could not do and my total dependence on Him.
The hard part for most Christian's happens after Salvation when we often try to impress God with our own self righteousness. Naturally we look into scripture and write down a list of do's and don'ts in order to please God. This will frustrate your Bible reading because in your flesh this is impossible.
Rom 8:8-10
8 So then they that are in the flesh cannot please God .
9 But ye are not in the flesh, but in the Spirit, if so be that the Spirit of God dwell in you. Now if any man have not the Spirit of Christ, he is none of his.
10 And if Christ be in you, the body is dead because of sin; but the Spirit is life because of righteousness.
The Solution
The basis of our study of Scripture is to search for the Gospel of Christ. As believers, we should not only be dependent upon the Gospel of Christ for our salvation but also for our daily walk. I believe the Gospel can be found in every passage of our Bible. From the Old Testament to the New Testament, God's Word points us to the Glorious Gospel!
John 5:39
Search the scriptures; for in them ye think ye have eternal life: and they are they which testify of me.
Luke 24:27
And beginning at Moses and all the prophets, he expounded unto them in all the scriptures the things concerning himself.
Searching for the Gospel will have a profound effect on our study and our spiritual growth. We find what Christ has done for us far out weighs anything we could ever do for Him. We cannot help but come face to face with our own sin that is in stark contrast to His holiness. Instead of seeing a Bible character or story as either an example of what to do or what not to do, we see each of them as beautifully painted picture that point us to the righteousness of Christ who is Holy and full of Grace. Every thought in God's Word should strengthen our dependency in Him and drive us to humility.
1 Peter 1:10-11
10 Of which salvation the prophets have inquired and searched diligently, who prophesied of the grace that should come unto you:
11 Searching what, or what manner of time the Spirit of Christ which was in them did signify, when it testified beforehand the sufferings of Christ, and the glory that should follow.
What a privilege it is to see ourselves in Christ. Not because of who we are but because of who He is. True transformation takes place when we grow in the understanding of our wickedness and the truth of His holiness. This leads to us glorifying Him rather than trying to please Him in our flesh. Disciplining your behavior can change your actions with limited success. True change happens when we tap into the Holy Spirit who points us to the one who loves us and gave His life for us!
Take the challenge. Grow in the Word. Find the Gospel in every Scripture. Before you know it, God will be changing your life in ways you have never known. You will have a clear understanding that you do not deserve any credit for what God is doing in your life. You will be yourself praising and glorifying the God you serve!
John 17:19
And for their sakes I sanctify myself, that they also might be sanctified through the truth.

John 17:22-23
22 And the glory which thou gavest me I have given them; that they may be one, even as we are one:
23 I in them, and thou in me, that they may be made perfect in one; and that the world may know that thou hast sent me, and hast loved them, as thou hast loved me.

John 17:26
I have declared unto them thy name, and will declare it: that the love wherewith thou hast loved me may be in them, and I in them.

Romans 13:14
But put ye on the Lord Jesus Christ, and make not provision for the flesh, to fulfil the lusts thereof.

Ephesians 1:4
According as he hath chosen us in him before the foundation of the world, that we should be holy and without blame before him in love:

Philippians 3:21
Who shall change our vile body, that it may be fashioned like unto his glorious body, according to the working whereby he is able even to subdue all things unto himself.

1 John 3:2
Beloved, now are we the sons of God, and it doth not yet appear what we shall be: but we know that, when he shall appear, we shall be like him; for we shall see him as he is.