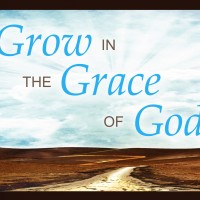 Grow in Grace
by Pastor Jack Walker | January 17, 2013
Most Christians do not have a problem understanding the grace brought to us in salvation. The problem that I find with myself and many other Christians is that we fail to realize that the same grace that saves us, also teaches us to grow.
Titus 2:11-14 For the grace of God that bringeth salvation hath appeared to all men, 12 Teaching us that, denying ungodliness and worldly lusts, we should live soberly, righteously, and godly, in this present world;
Once saved, we can fall into the trap of religious performance. Performance is rooted in comparing ourselves to others. We can have a tendency to say things like...I am thankful my family is not like that...I would never stay home from church and watch the Super Bowl like that person. This attitude produces pride in our life. It is dangerous to compare ourselves to others.
Luke 18:10-14 Two men went up into the temple to pray; the one a Pharisee, and the other a publican. 11 The Pharisee stood and prayed thus with himself, God, I thank thee, that I am not as other men are, extortioners, unjust, adulterers, or even as this publican. 12 I fast twice in the week, I give tithes of all that I possess. 13 And the publican, standing afar off, would not lift up so much as his eyes unto heaven, but smote upon his breast, saying, God be merciful to me a sinner. 14 I tell you, this man went down to his house justified rather than the other: for every one that exalteth himself shall be abased; and he that humbleth himself shall be exalted.
God can see our performance and looks straight into our heart. Growth that is produced by grace is born out of our love for Christ. Our standard of righteousness is an almighty God not one another. The holiness of God should drive us to our knees in humbleness. In return, we strive to live a more sober, righteous, and godly life. I am so thankful for the grace of God that seals me until the day of redemption. That is why it says in Titus 2:13-14, Looking for that blessed hope, and the glorious appearing of the great God and our Saviour Jesus Christ; 14 Who gave himself for us, that he might redeem us from all iniquity, and purify unto himself a peculiar people, zealous of good works.
The same grace that saves us is what sustains us and enables us to grow. It teaches us how to live here and now – without performing!
Lord, help us to remember that grace enables us to grow but religion expects us to perform. I am reminded of the words of the song by Casting Crowns entitled "Who am I?"
Who am I, that the Lord of all the earth
Would care to know my name
Would care to feel my hurt.
Who am I, that the Bright and Morning Star
Would choose to light the way
For my ever wandering heart.
Who am I, that the eyes that see my sin
Would look on me with love and watch me rise again.
Who am I, that the Voice that calmed the sea
Would call out through the rain
But because of what You've done
Not because of what I've done
But because of who You're
I am a flower quickly fading
Here today and gone tomorrow
A wave tossed in the ocean
Still You hear me when I'm calling
Lord, You catch me when I'm falling
And You've told me who I am
Thank God for His AMAZING GRACE!